Welcome to Pomerado Dental Arts!
Welcome to the dental practice of cosmetic and family dentist Dr. Lana Gorin. Expect a warm welcome when you visit our practice. With state-of-the-art technology, our dental office will provide all of your oral health and smile care needs. All of the components of a stunning smile makeover are here: veneers, one-hour teeth whitening, and mercury free white fillings and crowns. If you need replacement teeth, we offer aesthetic dentures and implants that will blend with your smile.
We proudly provide quality dental care to the community of San Diego, CA 92064 and surrounding areas.  We'll be glad to hear from you if you have any questions.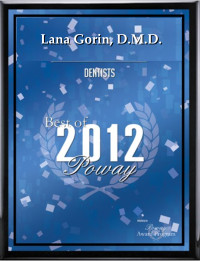 Thank you and see you soon!
Dr. Gorin and staff
Advanced Technology
We offer the most advanced technology in cosmetic dentistry. In-Office Power Teeth Whitening, Porcelain Veneers and Full Porcelain Crowns are some examples of how we redesign our patients' smiles.
Patient Comfort
Our number one priority is our patient's well-being. We implement all the tools available to make sure you have a comfortable experience during your dental visit. If you are looking for a great dentist in San Diego call us today!